ABOUT OUR BAND
Koo Koo Kanga Roo is a band and dance party/comedy duo. Neil and Bryan are on this planet to make their fans dance while laughing so hard that milk comes out of their noses. Whether kids and grownups are getting sweaty at their live shows, listening to their 8 albums and 6 EPs, or moving to their infectious dance-a-long videos including "Dinosaur Stomp" (16 million views), "Awesome Rainbows" or "All I Eat is Pizza," Bryan and Neil just want to make sure everyone is having a blast. Koo Koo Kanga Roo's latest music video is "Dream Wagon," a song from their album The Triangle of Success. True to form, it blends humor with messages of inclusiveness and inspiration.
With video streams in the multi-millions, these UNICEF Kid Power ambassadors have performed their extremely interactive shows at hundreds of elementary school gyms, bars, church basements and even nursing homes. This truly all-ages act has been described as "Sesame Street meets the Beastie Boys." They have toured with the likes of Frank Turner, The Aquabats, MC Lars, Yo Gabba Gabba Live and as featured performers with the Vans Warped Tour.
The duo will open for The Aquabats as well as headline dates in several cities around the midwest, east and south during September and October. They will also perform two sets during the Austin City Limits Festival on October 5th and 6th, when they will celebrate the release of a new single and music video called "Glitter."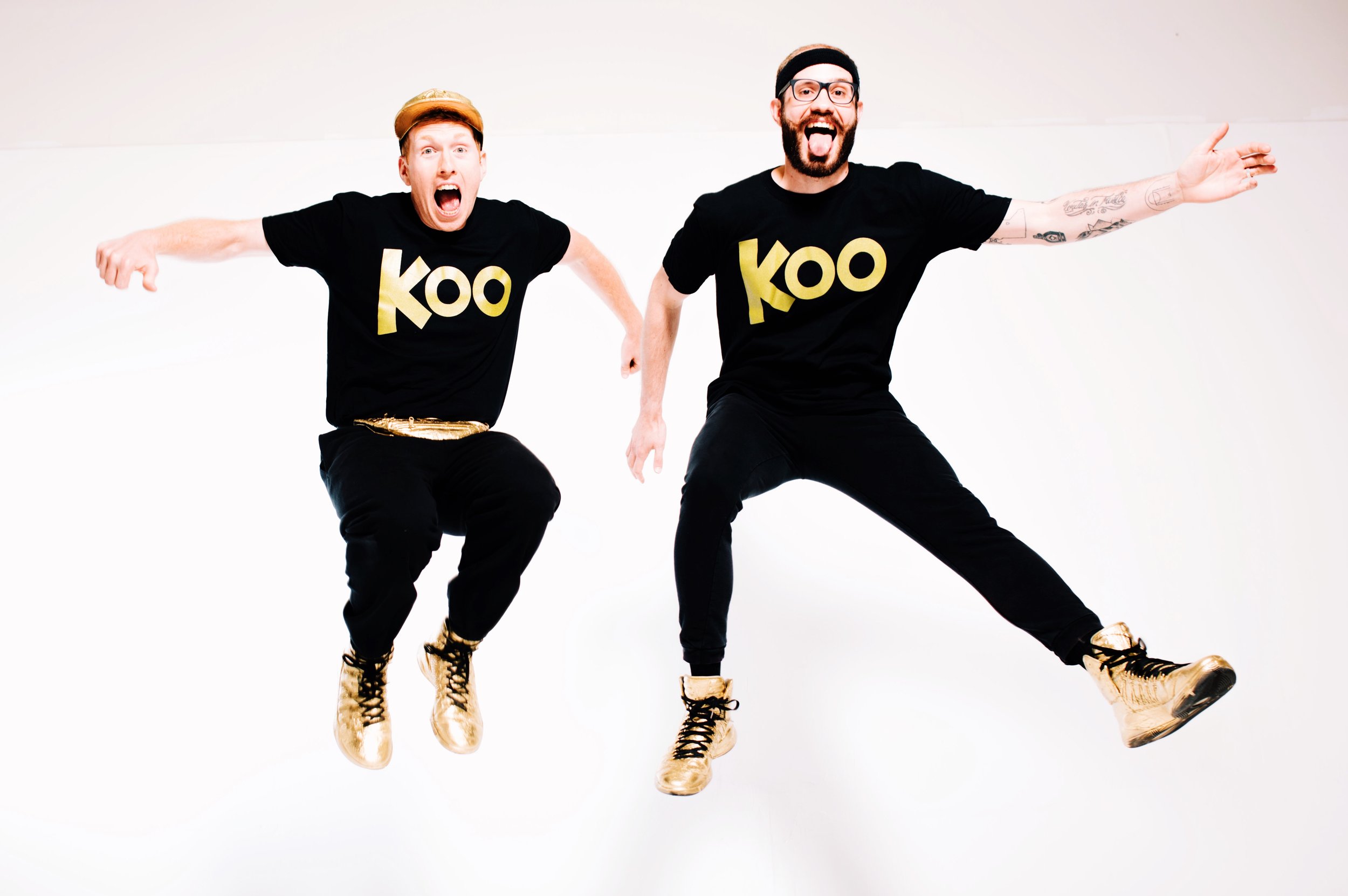 Press:
"Kind of like a really demented and even more nerdy version of They Might Be Giants, Koo Koo Kanga Roo want everything to be as dance-minded and light-hearted as possible." -Dallas Observer

"they're plowing new ground in this emerging category of kids entertainment" -Grand Forks Observer

"Koo Koo Kanga Roo is for anyone who wants to have a good laugh, dance and sing along with the band and be a part of a raucous, unpretentious community of merry-makers."LaCrosse Tribune

"It was weird because I'm usually pretty cynical about everything but seeing them kind of felt like the first time I ever ate ice cream." -Vice

"So drop the ego, cool guy, and get ready to dance."Orlando Weekly

"Crap tons of animals and confetti."City Pages
Logos:
JPG

Streaming Audio:
YouTube Links:
Superheroes Unite
All I Eat Is Pizza
Monster Moves
Awesome Rainbows
Brrrrrrrrrrr

Downloadable Songs
Glitter - MP3 - WAV - INST
Get Yo Body Movin' - MP3 - WAV - INST
Shake It Well - MP3 - WAV - INST
Dinosaur Stomp MP3 - WAV - INST
Cat Party MP3 - WAV - INST
Leftovers MP3 - WAV - INST
Monster Moves MP3 - WAV - INST
Bubble Wrap Rap MP3 - WAV - INST
You Are the Best MP3 - WAV - INST
Wobbly Man MP3 - WAV - INST
Positivity - MP3 - WAV - INST
Salad - MP3 - WAV - INST
Bread Bowl - MP3 - WAV - INST
All I Eat Is Pizza MP3 - WAV - INST
Everybody Poops MP3 - WAV - INST
Awesome Rainbows - MP3 - WAV - INST
Fanny Pack - MP3 - WAV - INST
The Coolest Person - MP3 - WAV - INST
Unibrow - MP3 - WAV - INST
Who Farted - MP3 - WAV - INST
Superheroes Unite - MP3 - WAV - INST
Unicorns R Real - MP3 - WAV - INST

Contact:
Press: Beth Blenz-Clucas - Beth@sugarmountainpr.com
Booking: JJ Cassiere / 33 and West - jj@33andwest.com
Management: Chris Trovero -chris.trovero@me.com/kookookangarooparty@gmail.com

Social Media:
YouTube - 87,900+ subscribers -59,202,216+ views on channel and over 250,000,000+ across YouTube
Facebook - 60,000+ followers
Instagram - 20,300+ followers
Twitter - 11,300+ followers
E-Mail list - 5,000 subscribers

Streaming:
Spotify - 40,000+ monthly listeners, 5,884 followers
Apple Music - 35,000 monthly listeners

Music:
The Everlasting Slumber Party (2009)
Uncrustable (2010)
Midnight Slushie (2011)
The Golden Staircase of Destiny (2011)
Space Bots & Tater Tots (2012)
Critters (2012)
Viral: Songs About Cats and Stuff (2013)
Radtrospective (2014)
Whoopty Whoop (2014)
Cafetorium Songs (2015)
Gross (2015)
The Triangle of Success: A Motivational, Inspirational Audio Guide to Achieving Your Dreams (2016)
Celebrate This! (2017)
Fast Casual (2018)
Q&A
How did you two meet, and how did you first collaborate musically?
Bryan and I met in college at our freshman dorm orientation. We quickly hit it off due to our love for bands and the music industry. We were fast friends and immediately formed a rock band that was the precursor to Koo Koo Kanga Roo.
Why do you think that some of your fans are very young, and some are not-so-young?
We appeal to adults because our energy level, humor and commitment transcends a typical "kids show." We appeal to children because we're two goofy dudes who make songs about Unicorns, Dinosaurs and Grilled Cheese.
How do you get ideas for your songs?
We create lists of funny ideas or concepts and then try to pair them with catchy choruses, rap verses and/or fun live show implementations.
What are your musical influences?
Top 40 radio, pop-punk bands and highly conceptual music projects.
What's your favorite type of pizza? (B and N may answer separately).
B. Straight cheese. Large or XL. Non of the personal pan junk.
N. Detroit style BBQ pulled pork and bacon from Outsiders Pizza.
Why is it important for everyone to dance?
Dance moves are a good way to burn some calories and let off some steam. By dancing at a Koo Koo Kanga Roo show you are signaling to the world that you do not care what people think of you or your sweet moves.
What's your typical workout routine?
Stretch.
Chug water.
Do the show.
Chug water.
Stretch.
Who are your workout inspirations?
Random guys running by my house that aren't in shape and it reminds me I should get on it.
What's up next for Koo Koo Kanga Roo?
We're trying to make a TV show, be musical guests on SNL and write the next "Cupid Shuffle."
What does the world need now?
Sweaty hugs.